As I talked about in the previous article I had started my vacation in London with a bit of wondering and a wedding. Now I was off on my own to Prague. Not only had I never been to Prague before I had never really travelled alone. This, to me, was a bit of a problem. As a bit of an introvert I can get very comfortable doing nothing and hiding in my hostel without being coerced out. Now, on with the trip.
Prague: 
Before leaving London I figured it would be a good idea to find out how I was going to get from the airport to the hostel. Since I was trying to keep things on the cheap, I figured public transit would be the best option. Thankfully Google Maps actually is able to help with these things.
After grabbing my one bag and getting through security quickly I found myself faced with an idea that I had not really thought about before, nothing was in English.
This would seem like common sense; I'm in a foreign country, one whose language is not English, but occasionally wrapped in the mindset of a North American I forget that signs, schedules, and maps are not going to be in English everywhere.
Pacing between different bus stops I settled on the stop I would use and I waited for my bus. I began to hear a familiar language. It wasn't English.
An Israeli couple was speaking Hebrew with a man who lives in Prague. While my Hebrew is rough I was able to understand most of their conversation, enough to understand that the couple were tourists trying to figure out how to get to their hotel. The gentleman was an ex-pat Israeli living in Prague for work.
After they had stopped talking I leaned over and in Hebrew asked if he also spoke English.
"Of course," he said "what's up?"
I asked him to double check the directions I had to get to my hostel, which he was more than happy to help with.
"What is it you do in Prague?"
"I work as a graphic designer here, and I also help Israelis who come over with getting around." He then leaned over, "Also if you need any weed give me a call."
I had been in the country for about 10 minutes and already I had a weed connection.
I came out from the subway stop my drug dealing friend told me to get out at and I looked around. Prauge is beautiful. It looks like something out of children's storybooks: Castles, and horses, and…honestly I suddenly felt like all the buildings I had ever seen in North America paled in comparison.
Winding down one of the cobblestone roads I found the hostel that I was supposed to be at. It looked far more like a hotel than a hostel, even the rooms were more luxurious than I had expected.
After dropping my bag in my room I found that I had managed to book another hostel with a bar in it. I finished my beer and headed out to wonder the streets…in the middle of the night…with no real idea of where I was. I figured it had to be safe. I wondered to what looked like a very tourist centered area with restaurants that had menus in multiple languages and accompanying photos.
As I wondered I noticed what was clearly a group of prostitutes all standing together watching for tourists passing by. Growing up in a major city I'm used to seeing prostitutes, especially having gone to university near "Hooker Harveys", but the prostitutes I'm used to are rather passive.
As I waited for a slice of pizza (despite being in a tourist area no restaurants were open. This may also  have to do with it being around midnight on a weekday) I saw a man walking towards me with his head buried in his phone. (For the sake of this story I'd like to think he was reading a text message from his girlfriend or wife.) One of the prostitutes saw him coming and broke away from the pack and stood right in his path.
He continues to read the message from his significant other, head down, he stopped only when he saw a pair of shoes in front of him. Finally looking up, he made eye contact with the prostitute, paused, and moved to his right and went back to looking at his phone. He took one step forward and the prostitute again moved to block his path.
I started to laugh at the situation when he obviously sees a familiar pair of feet preventing him from moving forward. He again looks up steps to the right and moves, at a brisker pace, away from the area. I turn to continue on my path only to walk into a prostitute that had decided to adopt the same propositional technique as her colleague. Side stepping her at a much faster pace I headed back to the hostel for the night.
I had been taken by the beauty of Prague at night, but in the light of day there can be no doubt that Prague is a gorgeous city.
I spent the day wondering; past the Astrological Clock, up giant steep roads to Prague Castle and St. Vitus Church. These places are breathtaking. I don't think I've ever seen anything at all similar to St. Vitus, this giant cathedral was a perfect example of what millions of dollars and man hours can build, beautiful stained glass looked like something out of the Assassin's Creed video games. (Forgive the nerdness there, but honestly it's the only comparison that I have. I also recognize I should probably travel a little more.)
That night I decided head out for some local colour. Using Foursqare I found what was described as a local bar. I wondered my way over. While the place could very well be a great place to grab a drink, it wasn't for me. I did like the massive dogs (read small bears) that were laying on the floor when I walked in.
I instead found a jazz bar called Unglet. Wondering down to, what once was, a basement of a house that is close to a thousand years old and listening to a man from Prague play American music that isn't more than 60 years old is an incredible experience.
I keep coming back to that experience, and I'm not entirely sure why. Sitting in the house, drinking a beer, and listening to some great blues, (which was sung in English so he knew that he was targeting tourists) and having this very old brick around me that was retrofitted with lights and sound that would never have existed those thousand years ago, it made me appreciate the city just a little more.
Of course one of the last things I did was spend time in the Jewish quarter. If you don't stop and think about it there are just these old buildings, abandoned after time by the people that lived there. But when you pause for a moment you are shocked at the realization that the people that worshiped here didn't just move for greener pastures but were rounded up, shipped out, and executed. One day these people were here, they lived, worked, ate, participated in politics, created art and literature, then they were gone.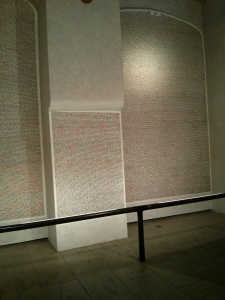 Wondering through the old synagogues that have been converted into memorials is a sobering experience. In one you can find written on the walls are the names of every Jewish person from the city that was taken during the Holocaust. Some of the spaces were 6 or 7 feet with thousands of names written across them.
I heard it took over 4 years of writing 5 days a week to get all the names on the wall. The history in the remaining synagogues is interesting. Seeing relics of what once was a vibrant community saved behind glass and examined by passing crowds should be a lesson for all, but is probably, sadly, just a curiosity more than anything.
Prague is a tourist destination in Europe, and as you spend more time there you begin to realize that the tourist industry is the main industry in Prague. It's a city of tourists rather than a city with tourists. I found that everywhere I went someone was either trying to get you in to their shops, buy their products, drink at their place or they were a tourist. There was a disconnect between the people from Prague and the people visiting which made the city feel a little cold and distant.
My last night in Prague I decided that the best thing I could do as a 33-year-old was to participate in a bar crawl. While on vacation, I figured, I could get away acting a little younger, and if I had a terrible time I would at least have a good story. Thankfully I had a fantastic time and got me out of my shell. I talked with a whole bunch of different people and eventually found a group of Canadians to spend my night with.
Prague's nightlife is great, but honestly I don't have that much to compare it to. I'm a bar guy back at home and so this was something out of my wheel-house. I will say that despite being (if I remember correctly) the oldest person on the crawl I felt very young and carefree…until the next morning.
My last day I found a bar called the Beer Museum (Just about every other store-front in Prague is some sort of museum.) which boasts 30 beers on tap. Nursing a hangover from the night before I ordered a few tasters and began chatting with a couple sitting next to me, both were not from Prague which was par-for-the-course for my trip. I tried talking with a few locals, but they seem to have no interest in talking over a pint.
As I said it was a beautiful city, but I found it a little cold and distant. It's a city for tourists and while I am glad I went I'm not running back there any time soon.