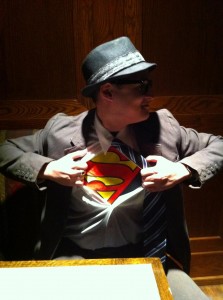 I'm a writer, well an aspiring one anyway. I created this site to host a lot of different stuff, so you may have landed here looking for an explanation on technology, and how it can be used in your life.
Maybe you came here because you're into comics and you found that I've shared the same point of view as you, or maybe I have the opposite one and you'd like to now spam my page. (Please don't spam my page.)
You may have heard me co-host a show called Too Soon, or maybe you've found one of my old podcasts The Interviews, and you wanted to see what else there is.
These are all aspects of who I am. I'm working on creating a site that will host a variety of different topics and will showcase a little bit of my writing talent.
So take a wonder around the site, let me know what you think.